Posted by DJ Sikosis | Filed under Electro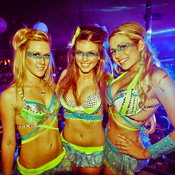 Alright let's go. Over 1 1/2 hours of #electro #house

Track Listing
Zinc - Back N Forth [Bingo Bass]
Bali Bandits - A A AO [Hussle Recordings]
Far Too Loud - Drop The Bomb (Michael White Remix) [No Tomorrow Recordings]
Deekline - I Don't Smoke (Deekline & Tim Healey Mix - Krafty Kuts Edit) [Rat Records UK]
D.O.D and Henry Fong - Bust Dem [Spinnin' Records]
Daddy's Groove - Pros & Icons [Dim Mak Records]
Deniz Koyu - Sonic [Spinnin' Records]
Zinc - Right Here [Bingo Bass]
Autoerotique, 4B - Bukem [Dim Mak Records]
DJ Fresh feat. Sian Evans - Louder (Hardwell Remix) [Ministry of Sound]
Far Too Loud - Light Sticks (Trumpdisco Remix) [No Tomorrow Recordings]
Mademoiselle Luna feat. Evee G - All The Love (Iane Robbertson Remix) [Gun Records]
Dirty Vegas - Changes (Felix Da Housecat Vocal) [Om Records]
DJ Zinc feat. Sasha Keable - Only for Tonight [Rinse]
JFK & St. Mandrew - Face Pump (LA Riots Remix) [Teenage Riot Records]
Xilent - Revolution [Audioporn]
Jakko, Steerner vs Klauss & Turino feat. Paul Aiden - Lighthouse [Enhanced Recordings]
La Roux - Bulletproof (Just A Band Remix) [Kitsune]
A-Trak feat. Cory Enemy - Ibanez (Nico Stadi Arena Mix) [Spinnin' Records]
Lazy Rich, Lizzie Curious - Get Out - Hirshee Remix [Big Fish Recordings]
Noelia feat. Timbaland, BK Brasco - Explode (Bsharry Remix) [Urbanlife Records]
Afrojack feat. Eva Simons- Take Over Control (Ian Carey Remix) [D:Vision]
Frankmusik - 3 Little Words (Dean Coleman Bass Hit Vocal) [Island]

Click here to download/listen.
blog comments powered by

Disqus